Blog in Dudley, MA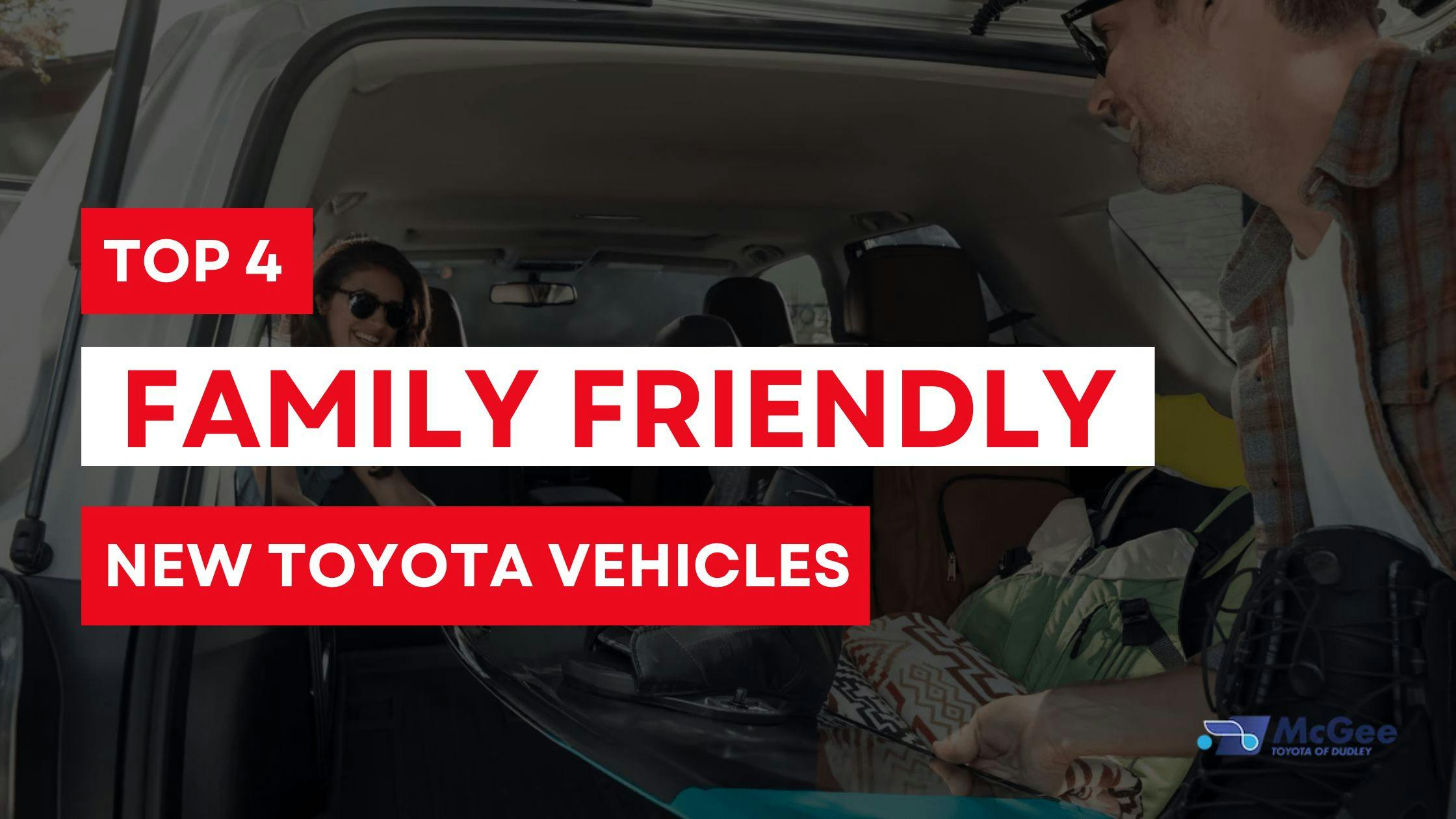 New Toyota Features the Whole Family Will Enjoy!
The Toyota Team here at Mcgee Toyota have put together our favorite 2023 new Toyota cars for sale we believe are the most family-friendly! Our staff our new and used car dealership want to help you find the perfect vehicle!
2023 Toyota Highlander
for sale in Dudley, MA
Toyota didn't skimp on the features when they made the new model Toyota Highlander. This robust vehicle is sure to please the entire family. The Highlander is available in a variety of colors, so you can pick out a CUV that suits your personal style.
Family Friendly Features in the New Highlander:
Reliability: The Toyota Highlander for sale in MA is known for its durability and longevity, making it a reliable choice for those daily commutes to work as well as long-distance travellers, alike!

Anti-Lock brakes in this Toyota SUV ensure you with peace of mind that all passengers are safe.
As stated above, the Toyota Highlander for sale comes with premium safety features such as ABS. Anti-lock brakes, also known as ABS, is a safety feature that helps prevent the wheels of a vehicle from locking up during hard braking. When a driver applies the brakes hard, the wheels can stop rotating, which can cause the vehicle to skid and lose control.
2023 Toyota Rav4
for sale in Dudley, MA
No CUV is as fully-loaded as the 2023 Toyota RAV4. The features you'll find in this Toyota make it one of the most family-friendly CUVs on the road today.
Family Friendly Features in the New Rav4:
Performance: The Toyota Rav4 is powered by a fuel-efficient and reliable engine, making it a smooth and responsive ride!

The Rav4 in Dudley also comes with standard child safety features such as LATCH (Lower Anchors and Tethers for Children) system and rear-door child safety locks, making it easy to secure child seats and keep kids safe while on the road.
This sturdy vehicle has received high crash test ratings, providing MA drivers with peace of mind for the safety of their familes. The 2023 Toyota Rav4 was awarded high ratings from safety organizations such as the National Highway Traffic Safety Administration (NHTSA) and the Insurance Institute for Highway Safety (IIHS) for its performance in crash tests, which indicates that it is a safe vehicle for families.
2023 Toyota Corolla
for sale in Dudley, MA
Whether it's the bustle of city living or the casual calm of the countryside, the 2023 Toyota Corolla is the perfect companion. As sleek as it is road-ready, the Corolla is sure to become a curbside icon and a highway warrior.
Family Friendly Features in the New Corolla:
The Corolla comes with a standard rearview camera and available bird's eye view camera with perimeter scan, which can help drivers see more of their surroundings, making it easier to navigate and change lanes safely, especially when children are on board.
The staff at McGee Toyota of Dudley is committed to excellence, whether you buy the Corolla or go a different route. Relish the experience when you set up your test drive in Dudley.
2023 Toyota Corolla Hatchback
for sale in Dudley, MA
The 2023 Toyota Corolla Hatchback for sale in MA totally steals the spotlight with awe-inspiring looks and dynamic road manners the whole family will enjoy!
Family Friendly Features in the Corolla Hatchback:
The Corolla Hatchback's compact size allows the perfect balance of roominess while keeping a moderate size as any Toyota sedan.

This "fun sized" car has premium cargo space for the kids' soccer bags, roller skates, and more!
Our Corolla Hatchback for sale in Dudley offers a comfortable ride, with ample legroom and headroom for passengers, and a spacious trunk for luggage. In addition to comfort, this hatchback vehicle comes equipped with advanced safety features, including anti-lock brakes, traction control, and multiple airbags, to ensure the safety of the whole family.
Back to Parent Page